Junior Iditarod
Jenny and her team competed in the Junior Iditarod three years in a row.
The Junior Iditarod covers 160 miles of the Iditarod trial from Wasilla to The Big Bend of The Yentna River and back. There is a 8-10 hour mandatory layover at the half way point. Teens 14-17 are allowed to run this race with a maximum of 10 dogs on the team. At the half way point they are responsible for caring for their dogs by themselves. The first 5 placements, Humanitarian Award, and Sportsmanship Award receive scholarships. The 1st place musher gets an airplane ticket to Nome for the Iditarod banquet, and he/she and their team get to lead out the Iditarod teams in the ceremonial start of the Iditarod. In 2011, Jenny and her team finished the Jr. Iditarod in 5th place and received the Rookie of the Year Award (for the top placing rookie in the race). In 2012, Jenny and her team finished in 5th place again and received the Best Cared for Team Award (Humanitarian Award). In 2012, Super Cub also won the Blue Harness Lead Dog Award for leading the team through heavy snow in the last miles of the race. In 2013, Jenny finished in 3rd place and received for the second year in a row the awards for Best Cared for Team, Top Placing Woman, and Blue Harness Lead Dog.
Video of Jenny's 2013 Jr. Iditarod finish that earned her the Humanitarian Award for the second year in a row!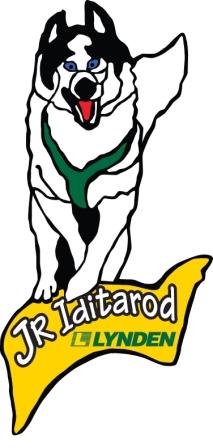 Click the link above to enter the Jr. Iditarod website